How to make a pizza using an Air Fryer with 8 Easy Steps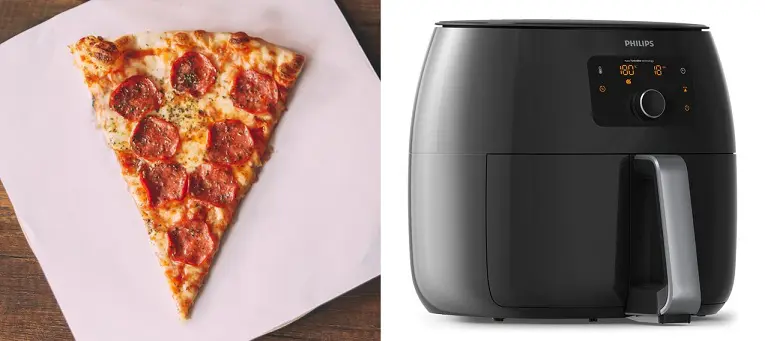 Rarely do we find food as universally loved as pizza. It can be enjoyed and prepared in many ways. You can easily experiment with its toppings to suit your preference, making it a go-to dish for meat-lovers and vegetarians alike.
Cooking methods have evolved as people transition to healthier lifestyles. The air fryer is a popular choice and a healthy alternative to frying in oil. However, can you make pizza using an air fryer? Yes, you can! Gather your best pizza supplies and ingredients, and let's start frying.
 8 Easy Steps to Make Air Fryer Pizza
Air fryers can cut up to 80% of calories so you can enjoy your favorite food guilt-free. Pizza is no exception, and in just a few steps, you can easily come up with a healthier version of your favorite snack.
Step 1 – Gather Your Ingredients
The best thing about pizza is the versatility of toppings you can use. You can overload it with cheese or add the much-contested pineapples If you wish. For classics, you can prepare these:
1 clove of minced garlic
Salt
Ground black pepper
Crushed tomatoes
Mozzarella balls
Basil leaves
Oregano
Extra virgin olive oil
2 packs pizza dough
Tip: Don't forget to add the toppings you want!
Step 2 – Prepare the Surface for Dough
Some people prefer stone surfaces like marble to prepare the pizza dough. Ensure it is clean and flour so you can knead with ease.
Here are other surface options for preparing pizza dough:
Granite
Polished concrete
Soapstone
Stainless steel
Step 3 – Brush Your Dough with Olive Oil
Flatten the pizza dough to a size slightly smaller than your air fryer's basket, and make a second one. Brush one side with olive oil and put one into the air fryer basket with oil surface side up.
Here are some reasons why you should use extra virgin olive oil on your pizza dough:
The oil helps the dough's proteins to bind.
The oil makes the crust more fragrant.
The oil makes the crust extra crispy.
Step 4 – Prepare Your Pizza Sauce
Put the garlic, tomatoes, oregano, salt, and pepper into a bowl and spread it on your pizza dough.
NOTE: Make sure you leave half an inch of the crust bare.
Step 5 – Add the Cheese On the Pizza
Add the mozzarella slices to your pizza.
Cheese is such an essential part of the pizza, and we can hardly imagine pizza without it. But is there such thing as the best cheese for pizza? Here's a rundown of some popular choices:
Mozzarella – This cheese is the number one choice for pizza. The texture and taste make it a universal favorite among pizza lovers.
Provolone – This cheese has a strong flavor and usually blends well with mozzarella. It doesn't melt quickly like mozzarella, but it is known to be an excellent substitute.
Gouda – This cheese is best for pizza with pork or barbecue. It has a unique flavor that adds dimension to the experience.
Step 6 – Start Air Frying
Set the air fryer to 400 degrees and keep your pizza in for at least 10 minutes. Check on it regularly and wait until the crust turns golden and the cheese is melted.
Step 7 – Remove the Pizza from the Air Fryer
Using two pairs of tongs, carefully remove the pizza from your air fryer and set it down on a plate. Repeat steps 3 to 7 with your 2nd dough of pizza.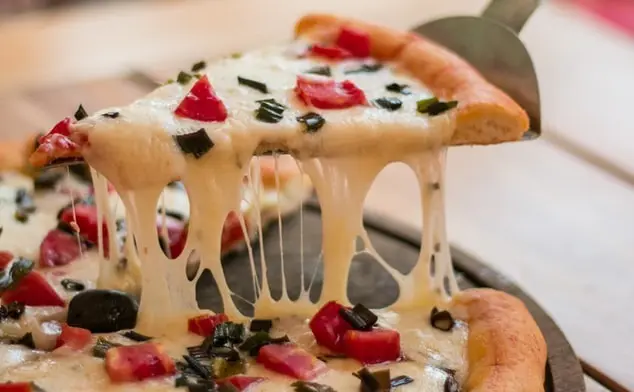 Step 8 – Garnish and Serve
Garnish your pizza with some basil leaves, slice, and serve. If you are not a fan of basil as pizza garnish, here are other options to consider:
Nuts like almonds and walnuts
Pepper
Rosemary
Thyme
Anchovies
Spinach
Olives
For more information about how to prepare pizza's or anything related to pizza's visit Minutemanpizza.com
---
Conclusion
There are many reasons to love pizza. We've just given you one more reason to love it more. The journey towards a healthy lifestyle starts with a few changes, and using an air fryer to make pizza, is one way to start.